Storm Shelter dealers across the United States!
Find your state below to find your local Granger ISS Storm Shelter dealer. Currently we are accepting dealer applications from all across! Join the fastest growing, quality Storm Shelter dealer distribution network in the country!
Storm Shelter Manufacturing & Assembly
Fiberglass Storm Shelter v.s. Plastic Storm Shelter
Storm Shelter FEMA 320 Door Testing
Storm Shelter Door & Handrails
Storm Shelter Comparisons
Look below to see how Storm Shelters manufactured from inferior materials compare!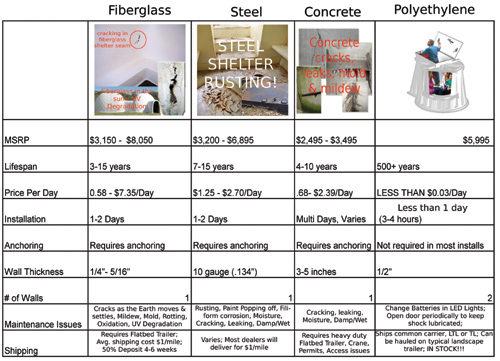 Protect your family with the longest lasting Storm Shelter on the market! The Granger ISS Storm Shelter will provide a safe place for your family for centuries to come! At a cost of less than 3 cents per day, see why the Storm Shelter by Granger Plastics is the best value!
Our Storm Shelters are in stock! No deposit required with a long wait! No waiting 4-6 weeks to get your unit! Order today, your unit can ship today!