Frequently Asked Questions
· What is the Inground Safety Shelter made of?
The Body of the unit is constructed Linear Low Density Polyethylene, more commonly known as Plastic. The extremely high molecular physical bonding properties of LLDPE, make it one of the most durable materials known to man. This allows the Inground Safety Shelter to have a life of use in excess of 200+ years! Not many other materials can make that claim! The door is comprised of meticulously engineered aluminum. The Door exceeds FEMA 320 Standards, which makes the door capable of withstanding an F-5 Tornado, with winds exceeding 300mph!! See video of our door being tested at Texas Tech University's Wind Labs!
· I have a concrete shelter currently, will it crack like mine has after just a few years time?
"double wall construction makes the Inground Safety Shelter the strongest and most durable Inground Safety Shelter in the industry!
·Do the shelters carry any "official" Approvals?
Sheltershave been impact tested at Texas Tech Wind Labs to withstand debris from an F5 Tornado, commonly known as FEMA 320 testing. The Inground Safety Shelter offered here, does exceed the performance requirements of these physical testings conducted by FEMA approved Wind Labs at Texas Tech University. All of the Polymer materials come with Prime certificate of Certification from the material manufacturer, to ensure that 100% Virgin Prime Polyethyelene is being used.
Click here for more information regarding the Inground Safety Shelter!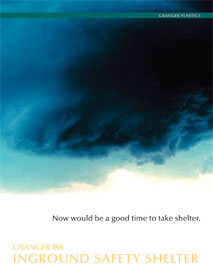 · How many people fit inside of the Shelter?
Shelter. 3-5 Large Men (6'+, 250+ pounds) could fit easily into the shelter and wait out the average duration Tornado. Taking that into consideration, parents and several children can easily and comfortably take refuge in the Inground Safety Shelter.
· What makes your door so easy and secure?
The door has a specially designed gas assisted shock that helps a controlled smooth opening and closing action for such a large aluminum door. The door has 3 separate locking mechanisms for added protection! Read how the Inground Safety Shelter's door has World Class features that outperform!
· How do I get air down here?
The Shelter has a molded in 4" Ventilation opening. This opening is generally covered by an exhaust cap on the exterior, and sometimes covered from the inside with a slotted cap, or even a temporary plug that is easily removed from the inside during use. The units also have the additonal options of a Solar Powered Fan, GPS signaling device or a distress signal. All purcharsers will be encouraged to notify their local fire departments of the inground shelter for safety purposes.
Click here for more information regarding the Inground Safety Shelter!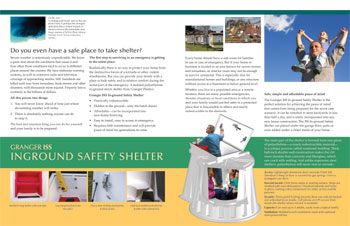 · I'm interested in becoming a dealer or an installer, Can we talk?
Absolutely! Call 1-866-510-9701 or (513)424-1955! Or just Contact Us!
· How long does the typical install take?
The average installation from start to finish is around 3 hours. For installations generally going into the ground of an existing home. For installations underneath homes or in garage floors, installation may take longer, depending on the installation location and factors. Always check to ensure your installation location is free and clear of any utility lines.
· Can the interior cavity of the Shelter body be filled if desired?
Yes! Call us today to further discuss details! 1-866-510-9701 or (513)424-1955!
Click here for more information regarding the Inground Safety Shelter!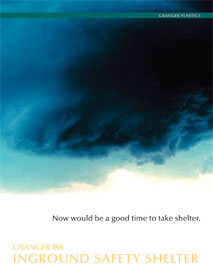 · Ok, I've done all of my homework on safety shelters, I have my spouse on board for the purchase and now we are ready to buy a shelter, What is the Manufacturers suggested retail pricing for the unit?
The MSRP for the Inground Safety Shelter is $5995. The shelter body is manufactured from Virgin Prime Polyethylene, which is an oil based commodity. Just like gasoline for your automobile and the natural gas in many of your homes, Polyethylene is a commodity that is traded on the open market. Just as all other commodities, the price of polyethylene changes on the open market due to supply and demand, both international and domestic. Pricing of the shelter is subject to change due to polyethylene market conditions. Pricing does not include installation and delivery. Please contact your local dealer or Granger Plastics for more details!